CHOOSING THE BEST PUPPY FOOD & NUTRIENTS FOR YOUR PUPPY

Choosing the best food for your growing puppy is critical in making sure they start off on the right path for development. A nourishing and complete diet ensures your puppy will be set up for a happy, healthy life. Here are a few tips on what to look for and avoid when choosing the best puppy food, what types of food to consider and how much to feed your puppy.
OUR PUPPY FOOD RANGEs:
ORIJEN
Our ORIJEN
Puppy recipes are packed with 85% quality animal ingredients like fresh or raw free-run chicken and turkey, wild-caught fish, and cage-free eggs.
With rich inclusions of Wholeprey animals, ORIJEN is made with the most nutrient-dense, succulent parts of the prey to deliver the nutrition your puppy needs.
With
ORIJEN Puppy Large Breed
and
Puppy
ranges available, whatever breed of dog you are welcoming into the family, ORIJEN has a recipe for you!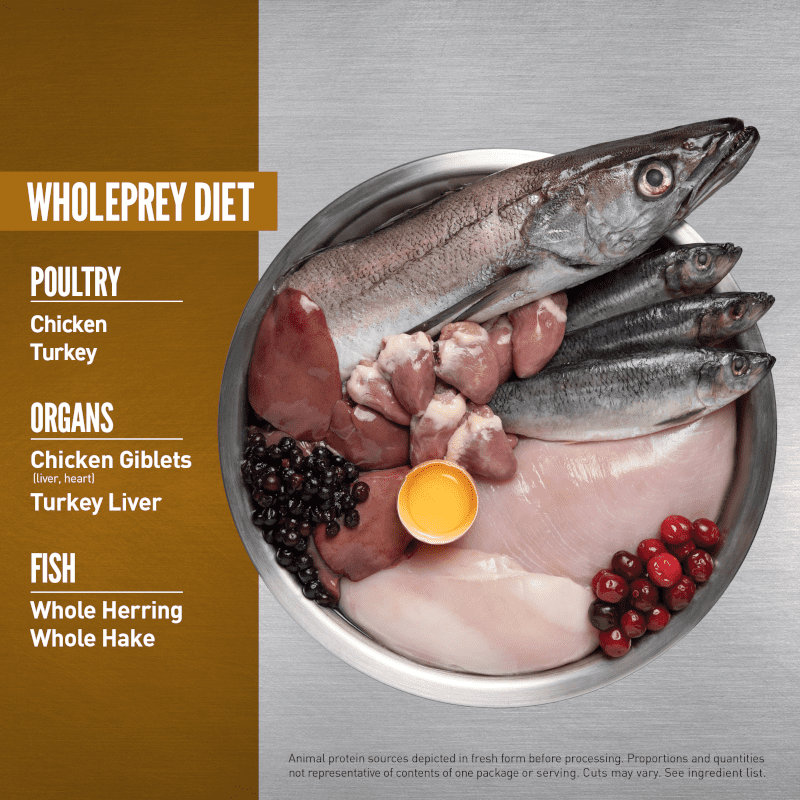 . 
ACANA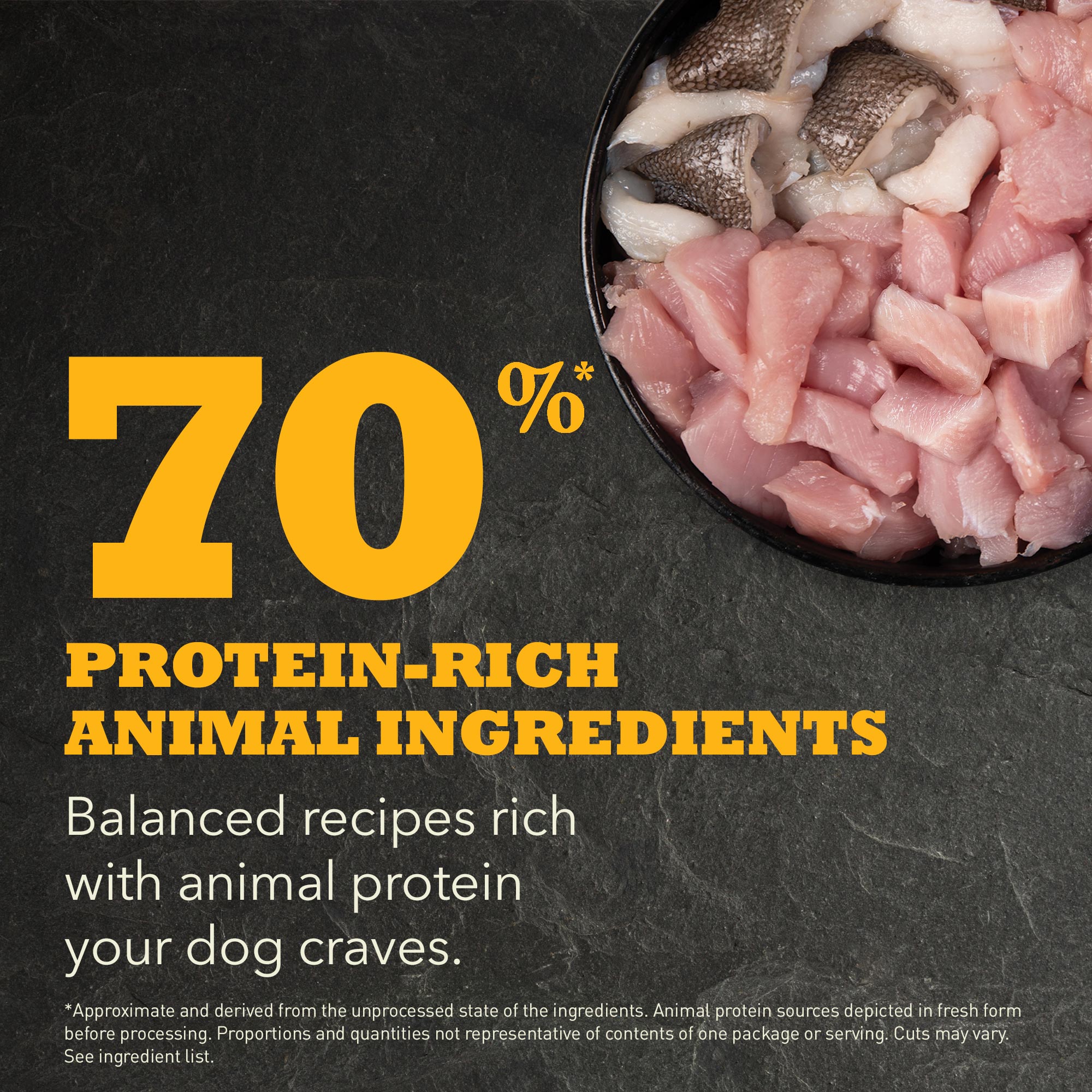 ACANA Puppy recipes are balanced with 70% quality animal ingredients like free-run chicken and turkey, cage-free eggs, and 30% fruits, vegetables, and botanicals like whole pumpkin. NO Artificial colors, flavors or preservatives are added in our kitchen.
Our ACANA Puppy Large Breed, Puppy Small Breed Recipe and Puppy Recipe provide your puppy with the protein and nutrition they need to support their rapid development. With quality animal ingredients balanced with fruit, vegetables and botanicals delivered daily, every meal of ACANA Puppy Recipe is like it came from the farmer's market.
What to look for in puppy food:
There are several factors to consider when choosing the right dog food for your puppy including, but not limited to, ingredient quality and nutrients that are necessary for growth. It is important to recognize that puppies do not have requirements for specific ingredients, but for the nutrients those ingredients provide. This is why it is important to look for a food that lists quality ingredients like fresh or raw* meat, poultry or fish in the first few ingredients. Quality animal ingredients provide a greater variety of nutrients, resulting in a food that requires less supplementation.
WHERE DO SOME OF THE ORIJEN PUPPY INGREDIENTS COME FROM?
A growing puppy has several dietary needs that differ from an adult dog's needs, which is why picking a food that is formulated with puppies in mind is a good idea. Here are a few factors to consider when choosing a puppy food:
Energy: Puppies grow fast and therefore have an increased requirement for energy or calories. This is an especially important consideration for puppies under 4 months old, as their requirements may be as much as twice the adult requirements. Pet Lovers can achieve this by feeding a calorie-dense food. Typically, formulated puppy diets feature a higher fat content to provide more calories. By using puppy specific recipes, Pet Lovers do not have to feed large quantities of food to provide their puppy with the nutrients they need to thrive.
Protein: Protein is pivotal to providing puppies with the building blocks for the development of hair, skin, nails, muscles, tendons, ligaments and cartilage. Dog foods high in quality animal protein should be desired over those that are high in plant-derived proteins, as animal proteins provide a more complete amino acid profile, making them better quality protein source for puppies. ORIJEN puppy food includes WholePrey ingredients like meat, poultry or fish, organs and bone which are nutritional superfood for dogs.
Calcium and Phosphorous: You may be thinking that because a puppy needs more energy and protein, they must need more minerals. This is where Pet Lovers often get confused! While it is certainly important that minerals such as calcium and phosphorous are present in the food, it is equally as important for them to be present at the appropriate levels. Too little or too much calcium, in addition to an imbalanced calcium phosphorous ratio, can negatively impact puppy growth. Although most orthopedic and joint problems are inherited, puppies that have been fed a food with inappropriate mineral levels have a higher potential of developing these problems as younger animals, and arthritis as older animals.

A note for large breed puppies: Due to the longer growing period of large breed puppies, their calcium needs are slightly different than small or medium breeds. Foods that are appropriate for large breed puppies will feature a lower calcium content in order to lower their risk of developing orthopedic and joint problems. It is important when choosing a food for a large breed puppy that the food has been formulated to be appropriate for their unique needs, and features an AAFCO or FEDIAF statement.

EPA and DHA: Docosahexaenoic acid (DHA) and eicosapentaenoic acid (EPA) are omega-3 fatty acids commonly found in quality animal ingredients like seafood. Both DHA and EPA are essential for proper neurological development in puppies.
What to avoid:
Orijen's focus when making dog food is to align as closely to our Biologically Appropriate food philosophy as possible. This means formulating recipes based on your dog's biological needs and what their ancestors ate in the wild. Puppies may be able to survive off a diet low in quality animal ingredients and high in carbohydrates, but it won't help them be their best. Puppies thrive off a diet where the distribution of energy comes from quality animal protein balanced with fruit and vegetables, and low carbohydrates.
So, what is a "bad ingredient" and why should they be avoided? A bad ingredient is one that provides little nutritional benefit. Typically, these ingredients are less expensive. Examples of these are corn, soy, wheat, or tapioca ingredients.
With ORIJEN food, Pet Lovers can be confident in the food they are feeding their puppy. Orijen's first 5 ingredients are always quality fresh or raw animal ingredients sourced from suppliers we know and trust. This includes the most nourishing and succulent parts of animals, including meat, poultry or fish, organs and bone. Every ingredient in ORIJEN puppy diets is carefully chosen by their Research & Innovation Team for a puppy's nutritional benefit, providing them with a complete and balanced diet that meets their Biologically Appropriate food philosophy. Every ingredient plays a role in keeping your puppy happy and healthy!

*Orijen fresh ingredients use refrigeration as the sole method of preservation and our raw ingredients are frozen at their peak freshness.
Content sourced from Orijen Pet Foods Blog
🖈FIND YOUR LOCAL STOCKIST🖈
We have trusted pet specialty stores all over New Zealand, head to our stockist catalogue to find your local stockist.

*Individual stockist availability may vary*