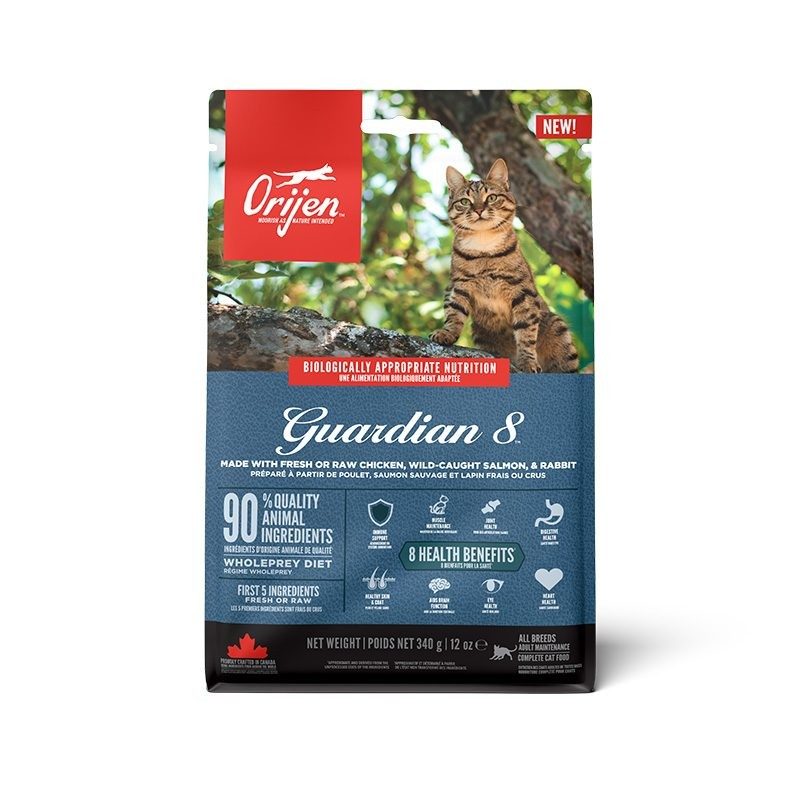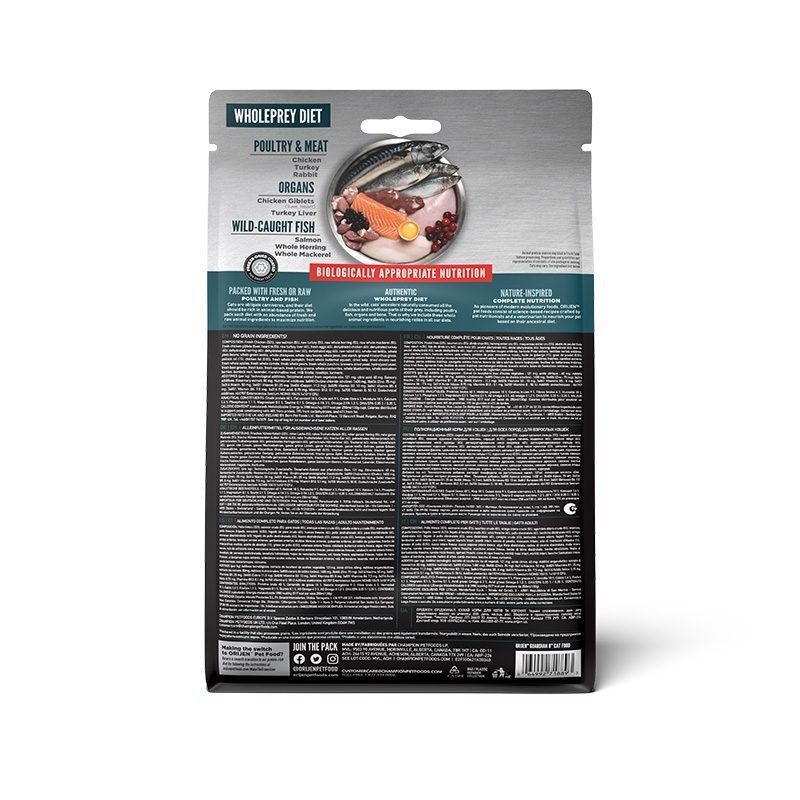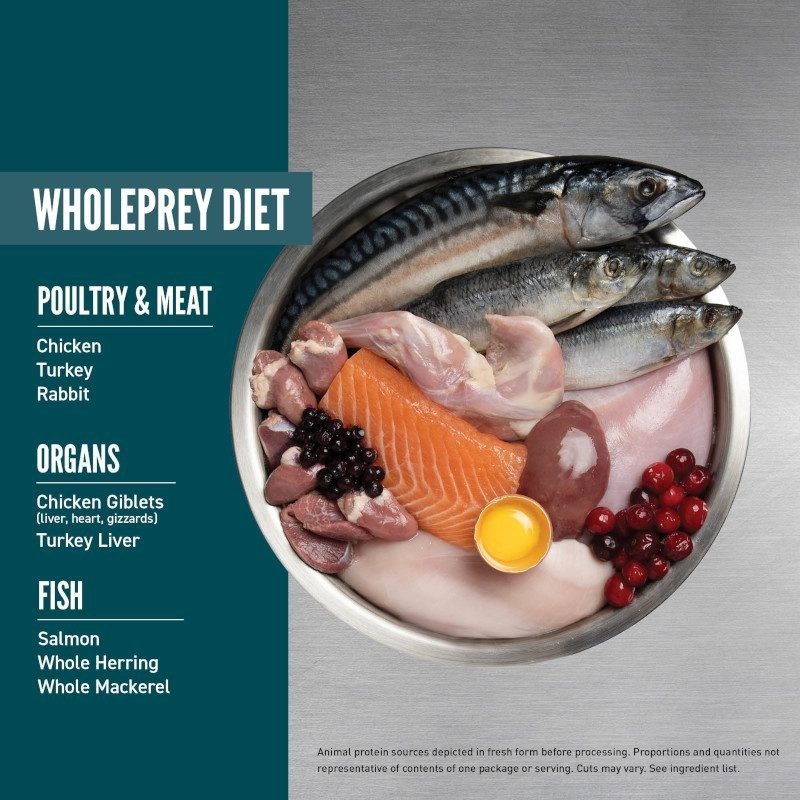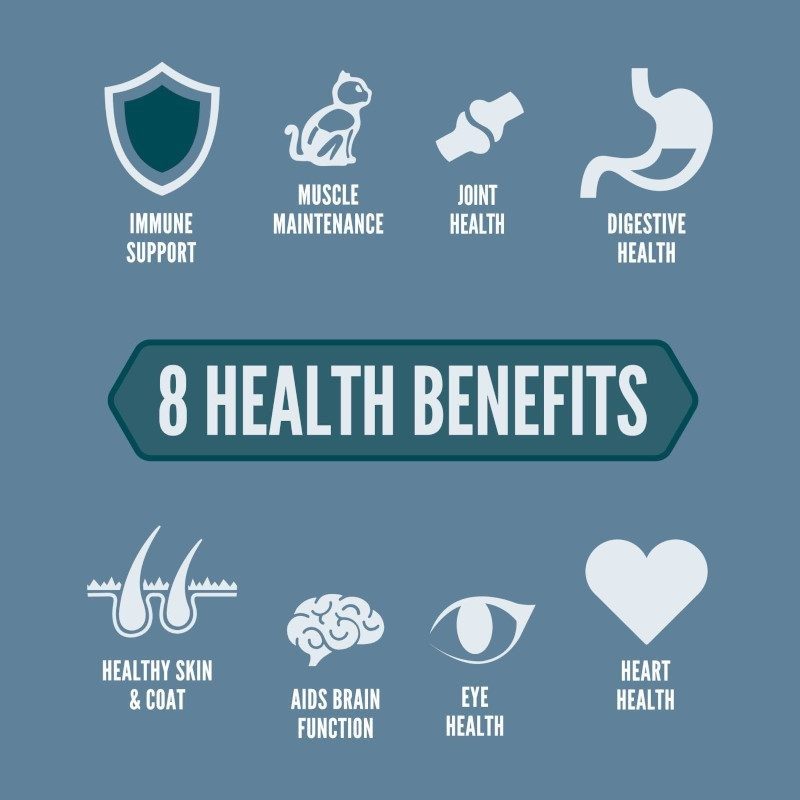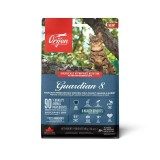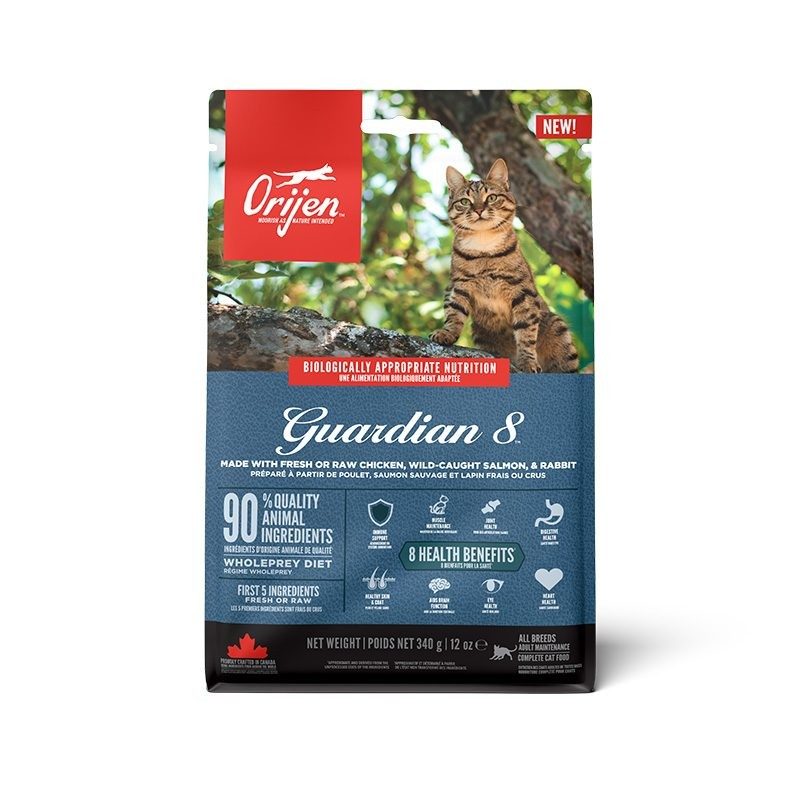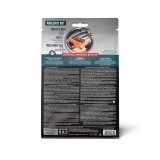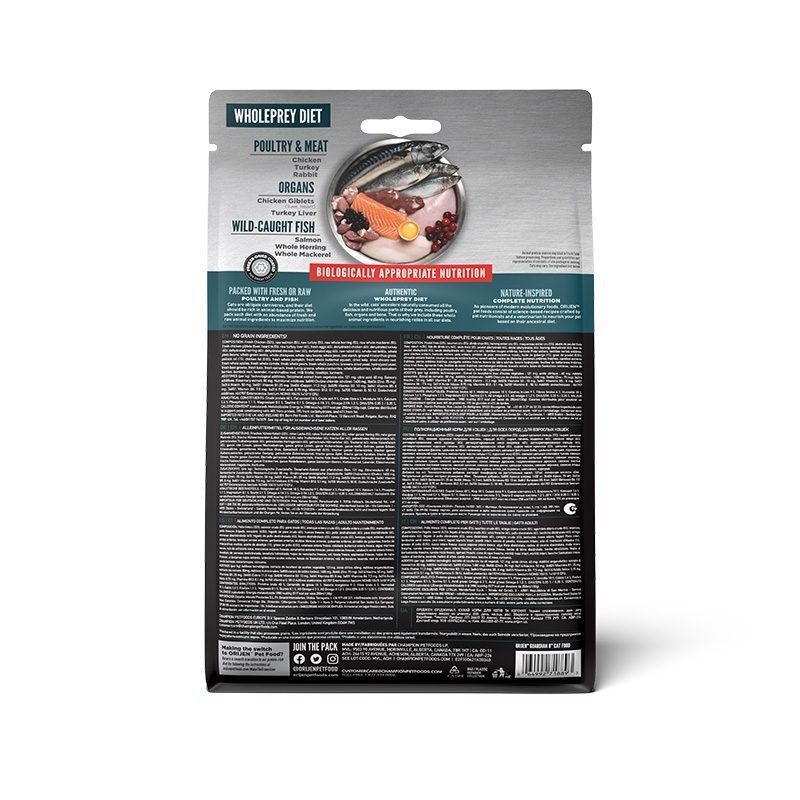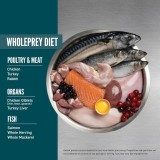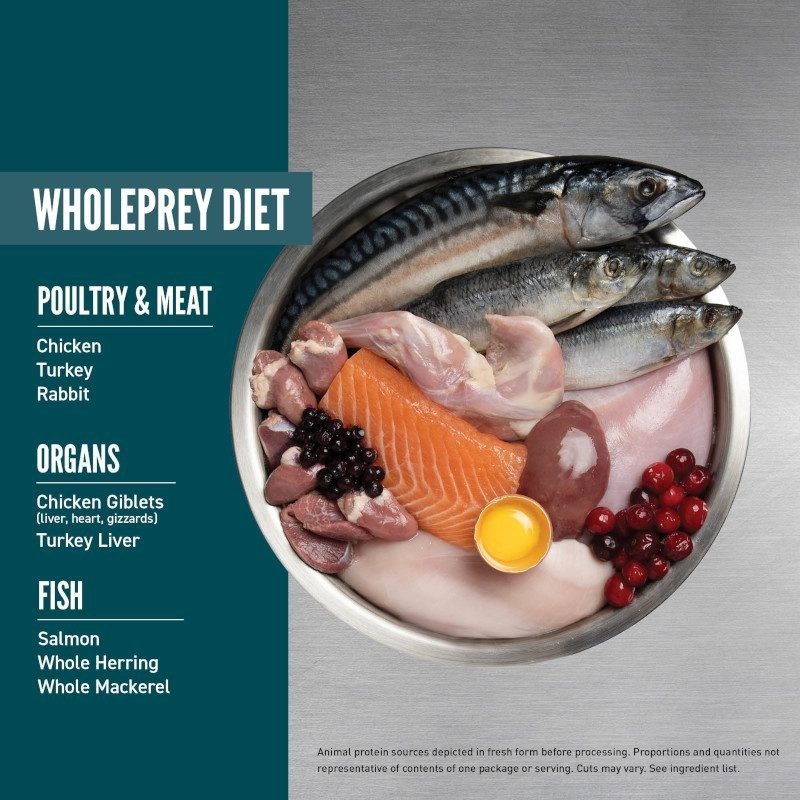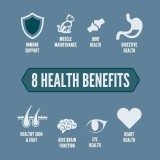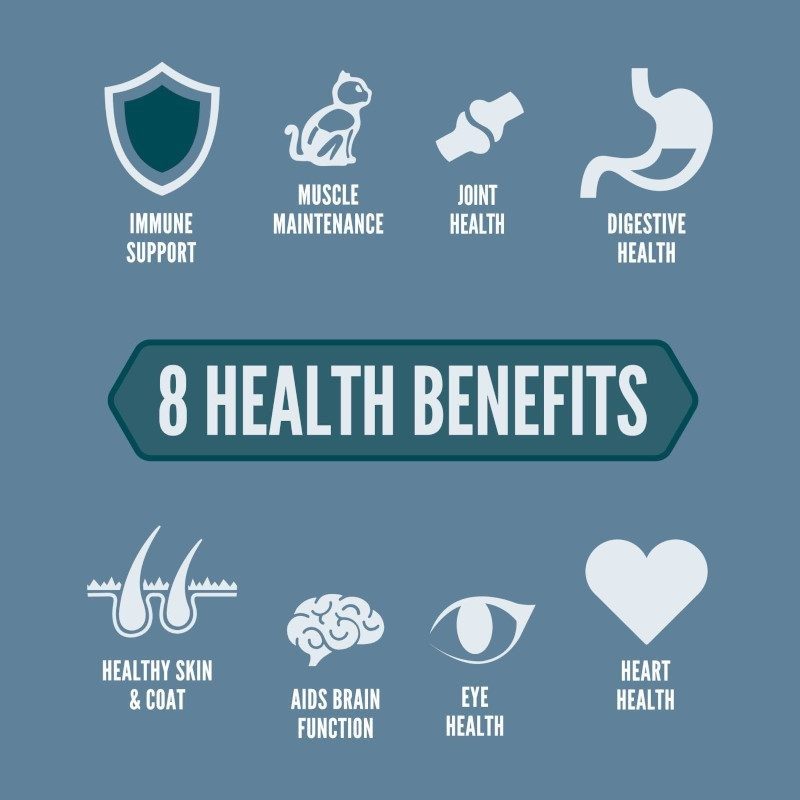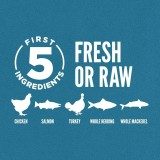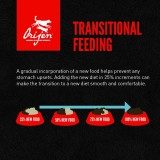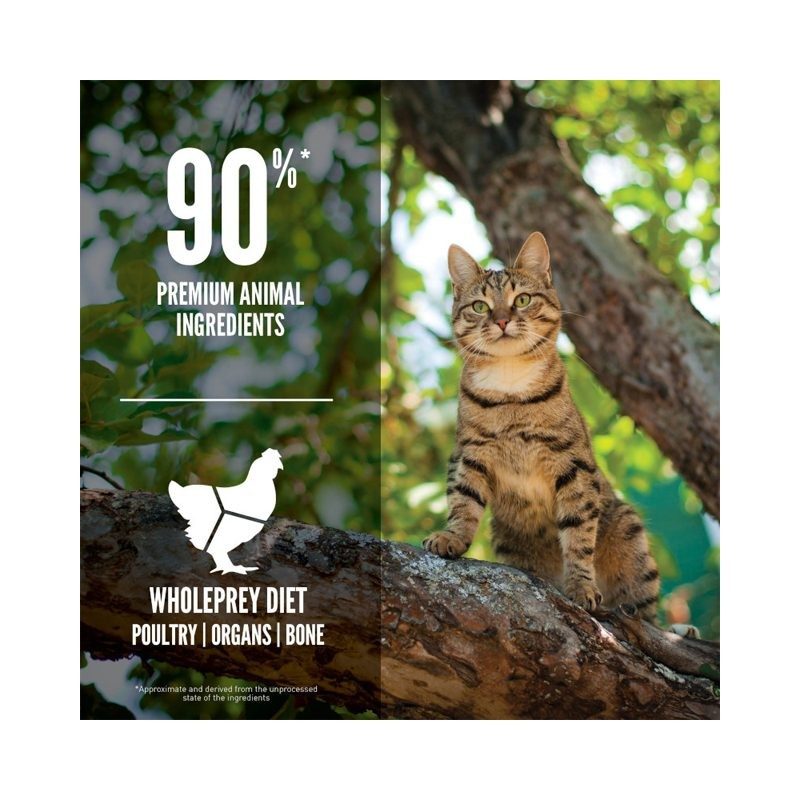 Orijen Guardian 8
Biologically appropriate nutrition for cats
Overview
Ingredients
Analysis
Feeding Guidelines
Fresh free-run chicken, wild-caught salmon and rabbit
ORIJEN Guardian 8 is a nourishing food specially formulated to address 8 common cat ailments through quality nutrition.
Because of the abundance of fresh and raw WholePrey animal ingredients in this diet, less supplementation is needed to support your cat's health for a lifetime. With 90%* premium animal ingredients, and 2/3 of those being fresh and raw, Guardian 8 contains nutritious ingredients that help support your cat's overall health with 8 benefits. These benefits include Immune support, Digestive health support, Healthy skin & coat support, Muscle maintenance, Heart health, Joint health, Brain & cognitive function, and Eye health.
The first 5 ingredients are fresh or raw poultry and fish ingredients. Our fresh ingredients use refrigeration as the sole method of preservation and our raw ingredients are frozen at their peak freshness.
Our authentic WholePrey diet features the most succulent parts of the prey like poultry or fish, organs and bone to mimic what your cat's ancestors consumed in the wild.
Helps support healthy digestion with prebiotics such as dried chicory root and natural sources of fibre from whole pumpkin, collard greens, whole apples & whole pears.
2/3 of each bag includes fresh or raw ingredients.
*Approximate and derived from the unprocessed state of the ingredients
8 BENEFITS FOR OVERALL HEALTH
Immune Support | Supports immune function with EPA and DHA from wild-caught fish, and antioxidant nutrients from ingredients including fruit and vegetables.
Digestive Health | Helps support digestion with prebiotics such as dried chicory root & fiber from fruits and vegetables.
Healthy Skin & Coat | Supports a shiny coat and healthy skin with Omega-3-rich oils from wild-caught pollock.
Heart Health | Helps support heart health with naturally-occurring Taurine found in animal protein sources like poultry, fish and eggs.
Muscle Maintenance | Formulated with 90% animal ingredients* such as chicken, salmon and turkey to help support muscle maintenance in your cat.
Joint Health | Supports joint health for adult and senior cats with oil rich in Omega-3 fatty acids from wild-caught pollock.
Aids Brain Function | Helps support cognitive function with oil rich in DHA and EPA from wild-caught pollock, and naturally-occurring Arginine from poultry and fish.
Eye Health | Supports retinal function with naturally-occurring Taurine and Vitamin A from animal sources such as chicken and turkey liver.